More Sales, Better Clients, Higher Income for Promotional Products Sales Professionals!
Here's How to Increase Your Promotional Products Sales NOW!
Promotional Products Sales Professionals…
Is This You?
You're new to promotional products sales and want to know how to get business FAST… 
You're stuck a sales plateau and struggling to compete with the online discounters…  
You're busy, but you're not making the money you should for the effort you're putting in.
If you answered YES to any of these statements, I can help.
First, start by downloading my FREE Report: 10 Proven Ways to Thrive in Promotional Products Sales…In Any Economy!  
Next, check out all the products and programs I've created to help you quickly and easily grow your promotional products sales.
Have questions? Not sure where to begin? Contact me anytime. I'm always happy to hear from you.  
Rosalie Marcus, The Promo Biz Coach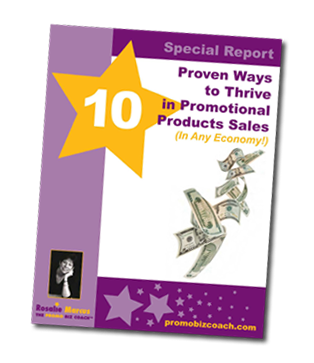 Click above to watch a short video message from Rosalie.
What Your Colleagues Are Saying…
"I had the good fortune to meet Rosalie when I was very new to promotional products. Not long afterwards I invested in her Fast Track program which became my Bible and I participated in her sales-coaching programs. Her easy to implement programs and industry specific coaching have made a world of difference in my sales abilities and confidence."
Diane Ross
"Rosalie is the best!!!   I've been in the promotional products industry for 30 years and Rosalie keeps me focused and back to basics.  Her knowledge and accessibility are key factors in having someone that not only understands this business but when I have run a situation by her, she brings new insight to solving the problem.  As long as I am in this business, Rosalie will always be my go-to for continued education."
Sharon Klein
"Rosalie's Niche to Be Rich program was a tremendous help to me. Just one idea I learned from Niche to Be Rich helped me secure a $5,000.00 order."
Bart Roberts
In today's highly competitive environment promotional products distributors have their challenges and so do suppliers. Below are a few suppliers and their best practices that will help you, the distributor sales professional, to sell more, sell better and sell faster.
read more
Rosalie's Articles and Advice have been Featured in:
---